Dual Production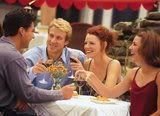 www.dualproduction.com
dualproduction@yahoo.com

At dual production we understand how difficult it can be to find that special someone. Busy schedules and real life obligations can make meeting people feel like an impossible task. We are here to help you in your romantic pursuit.
Say Hello

to Great Singles in your area!
Dual production makes meeting people easier then ever before! Meet 7-15 quality Singles in less time and money then one traditional date.
Find Compatibility

without pressure or obligation.
Our Events provide a safe environment for you to socialize with singles from your area. We offer events for all singles and our events are targeted for different age ranges. No fear of rejection, when there's a match Dual production relays the message to you via email making sure that your personal information is kept confidental .Dual production will only pass along your first name and emali adresss to your match, the rest is up to you.
Come join us February 21st at Hajjars in Weymouth (rte 53) to meet your special mate. This speed dating will be catering to our 40 and older crowd. Please look for our listings soon for our 21-30 session as well as our 30-40 session. Sign up below and we will see you there!